New Member Registration: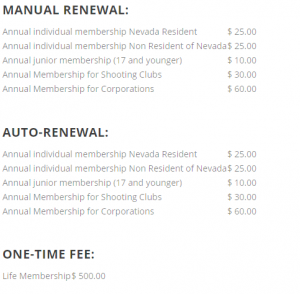 To register as a new member, click on "Join" at the top of the page, which is http://www.nvfac.org/join. Once you are on that page, you'll see a list of membership options in three different sections: Manual Renewal, Auto Renewal, and One-Time Fee.
Manual Renewal:  Once a year you will have to renew your membership, either online or with the paper application. You will be notified one month and one week before your membership expires that you need to renew. If you choose to do it online, you will have to sign on to the website and enter your credit card information to renew.
Auto Renewal: Once a year the credit card you use to join will be automatically billed for your membership fees.
One-Time Fee: The only membership that is a one-time fee is if you want to sign up as a Life Member.
Click on the Membership for which you would like to use.
The next screen will have you fill in your information, including your name, address, and a password to access the secure areas of the website. At the bottom of the page, click on "I have read and agree to the Terms of Service" and click on "Sign Up".
The next page will show you which membership option you choose, how much the membership will cost, and will ask you for your credit card information (in this example I chose the Annual Individual Membership Nevada Resident – Auto Renew)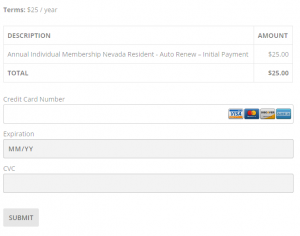 You will need to fill in the credit number to the left of the credit card pictures, expiration date, and CVC (located on the back of your card).  Click on Submit when complete.  Following is a picture of what it looks like when you enter your credit card information: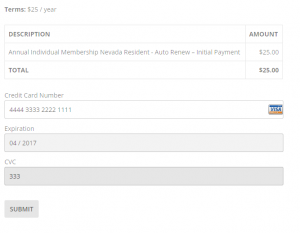 Once you click on Submit, the system will process your card.  If successful, you will see our Welcome message.
Member Renewal / Information Update
Whether you are an existing member, or one that hasn't been with us in a while but had an account you would like to renew, the process is the same.
Login to the website by going to http://www.nvfac.org and click on Login.
Once logged in, click on "Account" on the right side of the page under "NVFAC Member".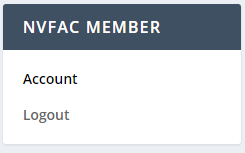 On the Account page there are four options:  Home, Subscriptions, Payments, and Logout:

Home: Here you can update your name, address, or change your password.
Subscriptions: This tab will display your current membership (if you are an active member), as well as past memberships for every year that is renewed.

On the Subscriptions page you can click on Update, Upgrade, or Cancel. If your membership is set to auto-renew, you can change your credit card on file by clicking on Update. If you would like to cancel, you can click on Cancel. You can also change your membership by clicking on Upgrade.
If the membership type does not auto renew, this is the screen that you would see:

To renew a membership, you would click on "Renew" in the far right column.  The website will prompt you for your credit card information and if it's processed successfully, your membership will be renewed.
Payments:          This tab shows all payments made to NVFAC for your membership:

You can check the status of your membership by logging onto the website, click on Account, and check the Subscriptions tab.  The following picture shows a member that has expired (Active says "No", and the Expires date is in the past):

To renew, click on "Buy" in the far right-hand column, and you will see the same screens used to sign up as a new member:
Confirm your information such as name, address, etc., and click on "Sign Up".
Enter your credit card information as described earlier and click on Submit.
Password Issues
If at anytime you are having a problem with your password, you can click on the Login link.  On that page you will see where you can enter your username and password – just click on "Reset Password", enter your e-mail address on the next page, and the system will send you an e-mail with instructions on resetting your password.
Contact the NVFAC
If you have any questions, comments, or problems with Signing Up, Renewing, or anything else, please don't hesitate to contact us.